Bariloche, Argentina

December 30, 1969, 1.30 p.m.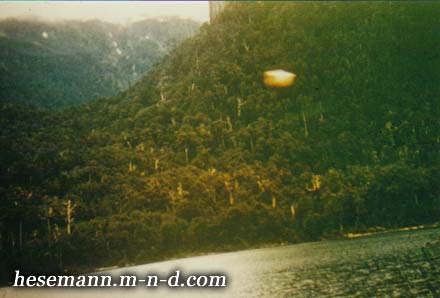 December 30, 1969, 1.30 p.m.

Bariloche, Argentina:

Prof. Sebastian José Tarde, MD, a prominent physician and later director of the Mendoza Central Hospital, spent the year´s end with his students in Bariloche, a popular holiday ressort in the Argentinien Andes. When the group shipped on the Nahuel Huapi-Lake, the Professor shot some photos with his Leica camera. Only after he got them back from development he realized that he had photographed an orange disc over the mountains. Two photographic experts from Mendoza analysed the original slide and concluded that the object cannot be a lens flare nor a mistake in the film. They were sure that it ins indeed a real object. Indeed UFOs are frequently seen over the Lake, and several sightings were reported in 1999 and 2000.

Source: Michael Hesemann

FAIR USE NOTICE: This page contains copyrighted material the use of which has not been specifically authorized by the copyright owner. This website distributes this material without profit to those who have expressed a prior interest in receiving the included information for research and educational purposes. We believe this constitutes a fair use of any such copyrighted material as provided for in 17 U.S.C § 107.