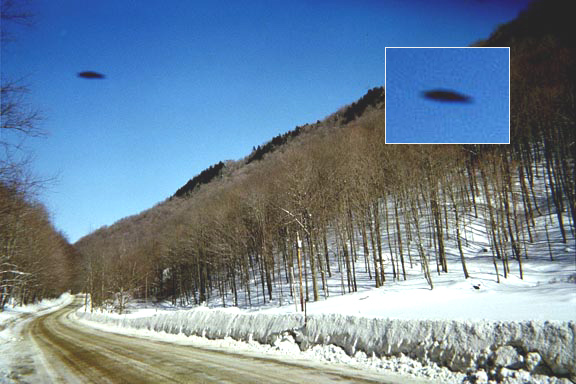 Starksboro, Vermont, USA

January 29, 2004

"On January 29th 2004, on the way home from picking up my 6 year old from kindergarten I saw something in the sky. I grabbed a disposable camera that I had in the car and shot through the windshield, then jumped out of the car and snapped a second and then it was gone. I got two photos (close-up above, full images below). To me it was a UFO, but maybe there is another explanation?

The object looks a little different in each photo-- maybe it was turning or whatever. I wish I had gotten a better shot or more of them. I remember a few years ago seeing 3 stars in the night sky lined up in a row ; then as I was looking at them the middle star moved out to create a triangle and then they formed a circle, spun around for a few minutes and took off in three different directions. Try explaining that one! "

--R.W. Martin

Starksboro, Vermont

Source: R.W. Martin (posted on Coast to Coast AM)

FAIR USE NOTICE: This page contains copyrighted material the use of which has not been specifically authorized by the copyright owner. This website distributes this material without profit to those who have expressed a prior interest in receiving the included information for research and educational purposes. We believe this constitutes a fair use of any such copyrighted material as provided for in 17 U.S.C § 107.