Waikiki, Hawaii

June 18, 1959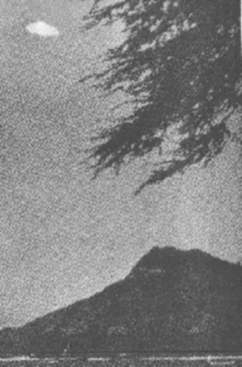 UFOs at Close Sight (Patrick Gross)

Project Blue Book Files

WAIKIKI, HAWAII, JUNE 18, 1959:

Here is one of the most breathtaking photos ever taken of a UFO, Joseph Sigel of Bellevue, Washington, took it June 18, 1959 in Waikiki, Hawaii, the same day that the blue book "unkown" case 6400 happened at Edmonton, Alberta, Canada.

The original is a color photograph. Saucer appears to have rounded top, and twinkling lights at bottom, giving window effect. Sent to Project Blue Book team. It was evaluated as sun glare on lens, though from shadows on shore sun seems to be at camera's rear.

Nevertheless, the photograph has been discussed at the UFO symposium for the Congressional Hearings of 1968 by Dr. Robert N. Sheppard, who pointed out possible similarities with other UFO photographs.

Source: UFOs at Close Sight (Patrick Gross)

FAIR USE NOTICE: This page contains copyrighted material the use of which has not been specifically authorized by the copyright owner. This website distributes this material without profit to those who have expressed a prior interest in receiving the included information for research and educational purposes. We believe this constitutes a fair use of any such copyrighted material as provided for in 17 U.S.C § 107.